February 20, 2018 - Metro Data, Inc. Recognized for Excellence in Managed IT Services
Metro Data, Inc. received the following announcement from CRN.com: 
"On behalf of The Channel Company and CRN, I would like to congratulate you on Metro Data, Inc.'s placement on the Pioneer 250 of CRN's 2018 Managed Service Provider (MSP) 500 list!   As you may know, the MSP 500 is CRN's annual list recognizing 500 of the top managed service providers in North America."
This annual list recognizes North American solution providers with cutting-edge approaches to delivering managed services. Their offerings help companies navigate the complex and ever-changing landscape of IT, improve operational efficiencies, and maximize their return on IT investments.
In today's fast-paced business environments, MSPs play an important role in helping companies leverage new technologies without straining their budgets or losing focus on their core business. CRN's MSP 500 list shines a light on the most forward-thinking and innovative of these key organizations.
"Managed service providers have become integral to the success of businesses everywhere, both large and small," said Bob Skelley, CEO of The Channel Company. "Capable MSPs enable companies to take their cloud computing to the next level, streamline spending, effectively allocate limited resources and navigate the vast field of available technologies. The companies on CRN's 2018 MSP 500 list stand out for their innovative services, excellence in adapting to customers' changing needs and demonstrated ability to help businesses get the most out of their IT investments."
About Metro Data, Inc.
Founded in 1994, Metro Data, Inc. is a leading information systems & services firm that works exclusively with business clients to develop and apply customized technology solutions that accomplish a client's strategic goals. Businesses have chosen Metro Data, Inc. to help keep pace with the ever-changing technology landscape.  Metro Data, Inc.'s "end-to-end" experience helps their customers to secure their systems, reduce costs, and improve their business information systems performance.
"Being included on this exclusive list is reflective of our commitment to providing the best-in-class experience for our clients" says Metro Data, Inc. President, Mr. Bert Orlitzky. "We are proud and honored to be recognized by CRN as a "Pioneer 250" of CRN's 2018 Managed Service Provider (MSP) 500 list."
About CRN.com - The Channel Company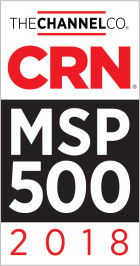 CRN is the top news source for solution providers and the IT channel, providing up-to-date technology news, IT vendor and product reviews, channel partner resources and more.
The MSP500 is CRN's annual list recognizing 500 top managed service providers in North America. Listing is based on the percentage a company's revenue that comes from managed service offerings.  The MSP500 list will be featured in the February 2018 issue of CRN and online at www.CRN.com/msp500.
The Channel Company Contact:               
Melanie Turpin
The Channel Company 
508.416.1195
mturpin@thechannelco.com