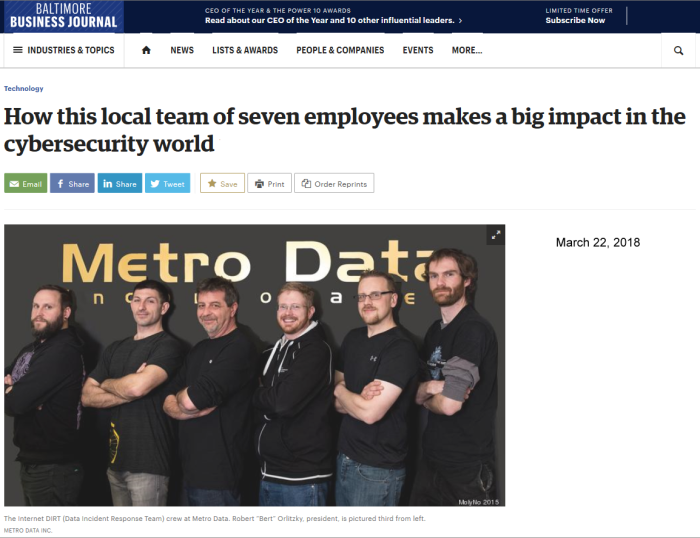 Metro Data, Inc. would like to thank the Baltimore Business Journal, and Ms. Maria Sieron, Research Director for featuring us and our Data Incident Response Team (D.I.R.T.) in the March 22, 2018 cybersecurity issue of the Journal.  The following is an excerpt from the article:
By Maria Sieron – Research Director
Baltimore Business Journal, March 22, 2018
Metro Data Inc. may be small with only seven employees, but between working with the FBI, tracking down hackers around the globe and preparing breach reports to the U.S. Department of Health and Human Services, the company is a key player in the cybersecurity industry. 
The Baltimore Business Journal caught up with Robert "Bert" Orlitzky, president of Metro Data, to learn more about the Hunt Valley-based information systems and services firm's involvement in Maryland's cybersecurity world.
How have you seen Maryland's cyber market grow, and what do you see for the future? I can say with great confidence that the Maryland cyber market will continue to grow, just as it will nationally. Naturally, everyone has heard about the major security breaches in the news: Equifax, Target, Yahoo, Verizon, Home Depot. But what about the smaller businesses that must protect themselves from the same cyber criminals and cyber threats? Smaller businesses simply can't afford the same levels of staff, security tools and training needed to keep up with modern threats. Sometimes they need a nimble, fast-thinking firm with the skill set to identify and protect them from those threats. That's Metro Data.
Do you feel like the state is friendly to cyber businesses? Yes, the state of Maryland is very friendly to cyber and is actively developing countless cyber-education opportunities to help fill the talent pipeline. As a matter of fact, Maryland is home for 17 NSA/DHS-certified Centers of Academic Excellence (more than California!). We've personally seen the efforts of Gov. Larry Hogan and his initiatives, which brought about the Maryland Cyber Range. The Cyber Range allows trainees to gain the real world experience that employers are looking for (and fill the talent pipeline!). And of course, our friends at the Cybersecurity Association of Maryland Inc. and their member-firms are doing their part on behalf of the industry. 
We've heard about cyber talent pipeline issues — how do you fill jobs in your company? What are the qualifications you look for? The reason that the talent pipeline is tight is simple — every business across every sector is also looking for the same talent.According to the Bureau of Labor Statistics, employment of information security analysts is projected to grow 28 percent from 2016 to 2026, much faster than the average for all occupations. The qualifications we look for generally include multi-talented people — those with skills in web protocols, coding, database, operating systems (Linux & Windows both) and of course, cyber. Also of great importance are rounded communication and social skills. 
In your view, what's the greatest cyber threat we are facing today? Insider threats — meaning employees or anyone who has been given authorization to access the data system (vendors, partners, subcontractors, etc.). This was the case in the Target data breach. The hackers obtained login credentials of an authorized vendor, which gave them unlimited access to the Target network withouttriggering alarms or raising suspicion.
This is a fairly broad topic and can even include malicious employees but let's just say that we don't ever expect client staff to be able to articulate any real understanding of IT security or the tactics used by hackers. The attacker is no longer breaking in through firewalls and back doors. Today they are stealing the keys to the kingdom directly from authorized users and walking right through the front door. We've seen everything: downloaded malware, phishing and forged emails, introduction of infected mobile devices or USB drives into the corporate network, stolen devices, insecure home systems and even inadvertent human error. The list goes on and on.
What does the future look like for Metro Data? Bright. So much has changed since our inception 24 years ago: the internet has taken on a life of its own, Y2K came and went, smartphones have revolutionized the way we communicate, managed IT services overtook the standard break-fix service model, and now cyber security services are front and center. Whatever the next big technological challenge is, we are nimble enough to innovate and thrive. Needless to say, after 24 years in business, we are just happy to still be in the game.
Are you looking to hire? Yes. We are always looking for network engineers with diverse skills using network protocols on Windows, Mac and Linux.
About the Baltimore Business Journal
The Baltimore Business Journal, where you'll find the latest breaking business news, updated throughout the day, some of this week's top stories.  The Business Journals are a division American City Business Journals. Our media products provide comprehensive coverage of business news from a local, regional and national perspective. We have more people, publications and websites covering our nation's business than any other business media organization.  American City Business Journals (ACBJ) is the largest publisher of metropolitan business newsweeklies in the United States, with 43 business publications across the country reaching more than 3.6 million readers each week.
More about the Baltimore Business Journal at https://www.bizjournals.com/baltimore
About Metro Data, Inc.
Founded in 1994, Metro Data, Inc. is a leading information systems & services firm that works exclusively with business clients to develop and apply customized technology solutions that accomplish a client's strategic goals.
Businesses have chosen Metro Data, Inc. to help keep pace with the ever-changing technology landscape.  Metro Data, Inc.'s "end-to-end" experience helps their customers to secure their systems, reduce costs, and improve their business information systems performance.