Metro Data, Inc. is pleased to announce the relaunch of the Appraisal Institute's Atlanta Chapter web site. The web site (aiatlanta.org) now features easy-to-navigate layout and uses a responsive design, which allows for easy viewing on mobile and tablet devices.
About the Atlanta Area Chapter of the Appraisal Institute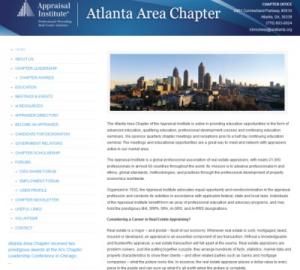 The Atlanta Area Chapter of the Appraisal Institute is active in providing education opportunities in the form of advanced education, qualifying education, professional development courses and continuing education seminars. We sponsor quarterly chapter meetings and receptions prior to a half day continuing education seminar. The meetings and educational opportunities are a great way to meet and network with appraisers active in our market area.
The Appraisal Institute is a global professional association of real estate appraisers, with nearly 21,000 professionals in almost 60 countries throughout the world. Its mission is to advance professionalism and ethics, global standards, methodologies, and practices through the professional development of property economics worldwide.
Organized in 1932, the Appraisal Institute advocates equal opportunity and nondiscrimination in the appraisal profession and conducts its activities in accordance with applicable federal, state and local laws. Individuals of the Appraisal Institute benefit from an array of professional education and advocacy programs, and may hold the prestigious MAI, SRPA, SRA, AI-GRS, and AI-RRS designations.
For more information, please visit aiatlanta.org
About Metro Data, Inc.
Founded in 1994, Metro Data, Inc. is a leading information systems & services firm that works exclusively with business clients to develop and apply customized technology solutions that accomplish a client's strategic goals.
Businesses have chosen Metro Data, Inc. to help keep pace with the ever-changing technology landscape.  Metro Data, Inc.'s "end-to-end" experience helps their customers to secure their systems, reduce costs, and improve their business information systems performance.