Metro Data, Inc. Celebrates 25 Years – Then & Now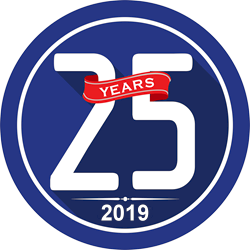 Metro Data, Inc., a full-service Information Systems & Services firm based in Hunt Valley, Maryland, is pleased to announce that October 14, 2019 marks its 25th anniversary.
The company would like to thank the business community for their support and friendship over these many years. 
"We are exceedingly proud to celebrate 25 years in business.  First and foremost, our amazing staff has made it possible to evolve and thrive in such a competitive field.  We are also grateful for the relationships we have formed with our customers, and the trust they place in us.  Our success would not have been possible without them.  They have many options these days, so it is not something we take for granted" says Bert Orlitzky, President of Metro Data, Inc.
So much has changed since Metro Data, Inc. was launched in 1994.
Things we remember from way back then…  Do you remember these?
- Arcnet, Token Ring, Coaxial Ethernet, hubs, dial-up modems
- Novell Netware, Unix, Lantastic, DOS
- Microsoft Windows – Windows 2.x, 3.x, NT 3.x, 4.x, 95, 98, 2000, Me
- Pagers, Flip Phones, Apple Newton, Palm Pilot, Blackberry, Cell Phone Bags
- AOL, Compuserve, Mosaic, Netscape Navigator
- Floppy discs, tape drives, serial and printer cables, monochrome monitors

What hasn't changed?
Our company name, our logo, and most importantly, our commitment to the needs and business goals of our client base. 
We would like to thank all of our dedicated clients, family, friends, and vendors for supporting us. We look forward to celebrating many more anniversaries with you!