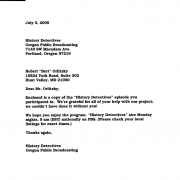 Metro Data, Inc. helps Oregon Public Broadcasting with PBS show "History Detectives" by providing and research for one of their upcoming episodes.
Oregon Public Broadcasting Mission Statement: giving voice to the community, connecting Oregon and its neighbors, illuminating a wider world.
About History Detectives TV Show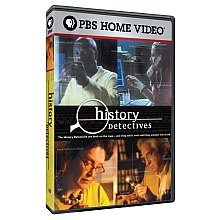 History Detectives is a documentary television series on PBS. It features investigations made by members of a small team of researchers to identify and/or authenticate items which may have historical significance or connections to important historical events, and to answer specific questions brought to them about these artifacts. Common subjects are family heirlooms and historical structures. Its stated missions is "exploring the complexities of historical mysteries, searching out the facts, myths and conundrums that connect local folklore, family legends and interesting objects."
Over its first decade, the series featured a team of several "detectives": originally Wes Cowan, Elyse Luray, Gwen Wright, and Tukufu Zuberi, later joined by Eduardo Pagán. Following a hiatus, the program returned in summer 2014 in a different format, with hosts Zuberi and Cowan joined by Kaiama Glover, as History Detectives: Special Investigations
About Metro Data, Inc.
Founded in 1994, Metro Data, Inc. is a leading information systems & services firm that works exclusively with business clients to develop and apply customized technology solutions that accomplish a client's strategic goals. 
Businesses have chosen Metro Data, Inc. to help keep pace with the ever-changing technology landscape.  Metro Data, Inc.'s "end-to-end" experience helps their customers to secure their systems, reduce costs, and improve their business information systems performance.