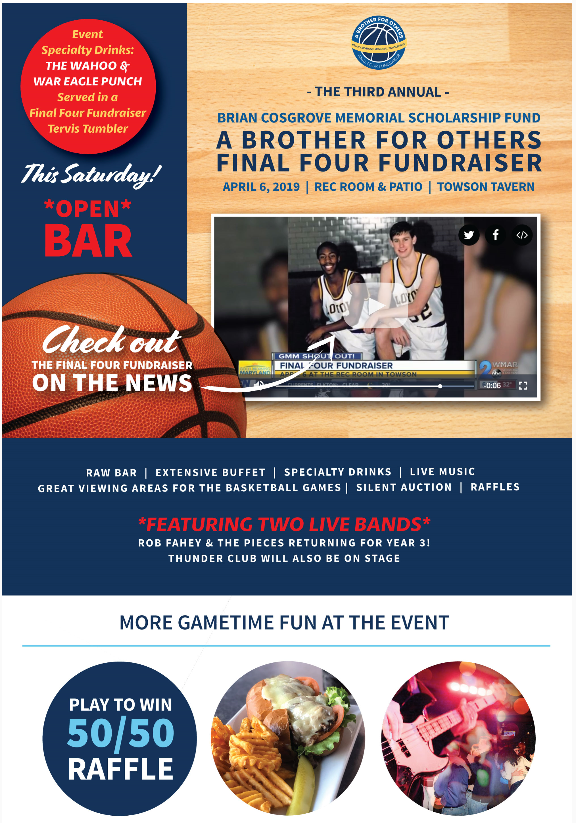 Brian Cosgrove was blessed with both height and a highly competitive spirit. He started playing basketball competitively at a young age - eventually going on to play four years at Loyola Blakefield and then four years at Johns Hopkins University.  After graduating from law school at the University of Baltimore, he remained involved in the sport, volunteering as a coach in youth leagues throughout Baltimore.
In February of 2015, at the age of 35, Brian was diagnosed with Non-Hodgkins Lymphoma.  Despite several rounds of chemotherapy, radiation, a bone marrow transplant - and a positive attitude that never flagged - Brian's aggressive form of cancer prevailed. He died on May 5, 2016.
The Brian Cosgrove Memorial Scholarship Fund was established to help a deserving student attend Loyola High School, Brian's alma mater.  Thank you for your support in helping us create a lasting memory of Brian as a "brother for others," through the gift of education.
Loyola Blakefield: Loyola Blakefield is a Catholic, Jesuit, college preparatory school founded in 1852, for boys in grades six through twelve located in Towson, Maryland. Loyola Blakefield offers a challenging college preparatory curriculum that provides a broad range of major course offerings including honors and advanced placement courses, complemented by a selection of enriching electives and co-curricular activities. Ignatian service and spiritual formation, in the Jesuit tradition, is the hallmark of a Loyola education.
Metro Data, Inc. is proud to be a silver sponsor of the Brian Cosgrove Memorial Scholarship Fund event on April 6, 2019.  For more information, and an opportunity to contribute, please visit www.finalfourfundraiser.com